Los Mochis, Sinaloa, Mexico - June 8, 2003
Chapter 10 - ¿ Habla español?
Through the internet, I found a place in La Paz that offers spanish language courses. It's CICC La Paz and it's run by a swiss national who now lives in La Paz. The only courses they could offer now were intensive spanish courses, meaning more money than I would have liked, but I enrolled anyway for $220 for five days. I was the only student in my class and after the first day, I had two teachers Martha and Fernando, each for two hours a day. My understanding of spanish and the grammar was good to begin with, because it is very similar to portuguese. Thus instead of being bogged down with grammar, my lessons were mostly conversational spanish, learning about Mexico or talking about my trip.
Luckily for me, Fernando was also a motorcyclist and lived in Vancouver for several years. He gave me really good tips about Guadalajara, the state of Tabasco and Chiapas.
The mornings I would spend them learning spanish until 1pm and then I would navigate the grid of downtown La Paz in order to get several errands done.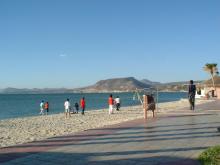 The beach in La Paz and locals playing beach volleyball

Most of the times you can't expect to accomplish much between 1 and 3pm, so after my first day I adapted to the local way of having a long lunch before going to the shops after 3pm.

I needed to get some more Torx tools and found them in La Paz. However, I couldn't find Allen key sockets. I also went to every motorcycle shop in town and noone could really help me. At one place, the guy immediately proceeded with a screwdriver to find out the size of the fork seal. I stopped him and told him that the size is 41mm. That's all he really needed to know.

I also managed to check out the price of a ferry ticket for me and my bike. The ferry to Mazatlan is operated by SEMATUR. This is the office that appears in the travel guides. They do not sell tickets for the ferry to Topolobambo. To Mazatlan, the ticket would have cost over $170 all together, so I tried Topolobambo (Los Mochis) instead. Right next door is a travel agent that sells tickets, but I bought mine from the ferry operator, whose office is on Isabel La Catolica and Navarro. The price for the bike is $50 and for a person in salon class it's $58. The trip is also shorter and it takes 7 hours from La Paz to Topolobambo.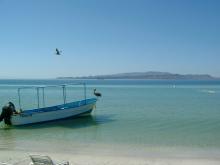 The beach in Tecolote with the island of Esperitu Santo in the background
Eating here in Mexico has been sort of a challenge, because I am vegan. When I camp, I can cook most of the times, but staying in hotels makes it more complicated. My spanish teacher, Martha told me about a vegetarian restaurant in downtown La Paz. It is an excellent restaurant. They serve Mexican dishes, but all are vegetarian. One time I had Burritos with wheat gluten and Mexican bistek (original is beef, here it's wheat gluten). It is very delicious. The restaurant is called El Quinto Sol and they are located off 16 de Setiembre on the first road left after the Malecón. In Baja, El Quinto Sol are also a major supplier of Granola and other products to local supermarkets. If you're ever in La Paz, check this restaurant out. It's really very good.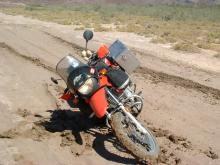 Crashing in the mud on the beach in Baía Balandra
My days in La Paz weren't all learning spanish and running around town. I also went north to check out some of the beaches past the ferry terminal. There are several beaches, but the best are Balandra and Tecolote, about 16km north of La Paz. Balandra is a bay and the water is quite shallow. The most striking aspect of these beaches is the contrast between the colour of the sea, a green and turquoise and the white sandy beaches. There is no development at Balandra, unlike Tecolote, where there are 2 restaurants and some tour operators for trips to the island of Esperitu Santo. I prefer the relative isolation of Balandra, but the beach is plagued by blackflies.
On one occasion I wanted to get a closer look at some spots on the beach and went with my bike to a flat expanse just off the highway. Initially, the soil was dry and hard, presenting no problem for the bike. But when I tried to get closer to the water, I saw a patch of dirt that looked a little darker, but still dry. Well, it was deceiving, as the only patch that was dry was a thin superficial crust. Seconds later, the bike starts wobbling and I completely loose traction in the rear wheel. Ok, here I go again and I landed on my right side in the mud. It was actually fun and this time lifting the bike up was easier, as I wasn't loaded up with all my gear. Trying to get the bike out of the muddy patch was a different story, though. Luckily it was just 5-10 metres to dry land. The rear wheel kept spinning with no traction, but I eventually made it out. In the afternoon heat, this was exhausting, so I had enough of bike adventures for that day.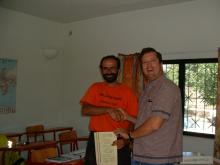 Receiving my diploma from spanish teacher Fernando Abad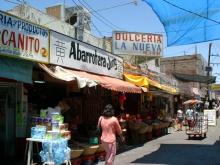 Downtown Los Mochis on a Sunday
After a week in La Paz it was time to move on. The ferry to Topolobambo was to leave on Saturday at midnight, so I had all day to do laundry, pack and check the internet. Well, first thing in the morning I noticed a small amount of oil leaking from the T connection thing I bought from Al Jesse to make oil changes easier. I changed the engine oil the day before. What is supposed to take minutes to an hour max, took almost three hours. Mind you, I installed a T connection to cut the time necessary to do an oil change. I went to an auto shop that does oil changes and asked if I could change the oil there. The guy agreed a bit reluctantly. On the F650GS, the left side panel has to be removed to drain engine oil from the oil reservoir. The T connection is inserted into the tube that flows from the reservoir. This took a while, because with my electrical outlet, there is little room to place anything else in that corner. The T connection has a threaded outlet, where a screw and a crush washer go in. The washer wasn't the right kind. It wouldn't crush and thus led to the leaking oil. The next day, I basically removed the existing screw and placed one I had that fitted with an old aluminum washer, while the oil was under pressure. Not a clean kind of operation, but it seems to work. I will have to check this carefully, because I don't trust the washer and screw I fitted.
After the oil change, I noticed that the bike is hard to start cold, not that it is very cold here. I used 20W50 oil and maybe that is the problem. The recommended oil is 15W40 or 10W40, but these seem to be hard to find here, not to mention the SG or SH only classification. Anyhow, once the bike is running warm, it's no problem.
I reached the ferry terminal after sunset, passed a building from Baja Ferries, but there were no signs telling me I had to stop there, so I went straight to the terminal. Of course, at the gate they wouldn't accept the ticket and needed a big plastified card from the office that I had just passed. So, back to the office and a few photocopies and stamps later I arrived with the correct pass at the ferry terminal. This was between 8 and 9pm and there was already a lot of movement there with trucks being loaded into the ferry's belly. After customs (yes, Baja California is a customs free zone) and checking the serial number on my bike, I went into the ferry. There, I was told to park in front of a fire hose. Talk about safety procedures. I got my cameras, food, water and a fleece (and later also some toilet paper, as there was none on the ferry) and went upstairs to the salon class. These are essentially two big rooms with lots of chairs arranged in groups and rows. As many mexicans had occupied several, so they could use them as a bed, I did the same, using my Darien jacket as a pillow and the fleece to cover the space between two chairs.
It promised to be a noisy night, as the music from The Beatles kept blaring out of the speakers, but eventually even the speakers were quiet once the ferry began to sail. As there wasn't a whole lot to see, I slept, oblivious of any noise, thanks to earplugs, until shortly before 5am. I went out to the deck and was greeted by a magnificent view and steaming hot air. Clearly above me was the Milky Way and ahead of the ferry I could distinguish the contours of land and a few scattered lights, with the sun looming below the horizon. As it looked that it was going to be a few more hours until we reached the terminal at Topolobambo, I went back inside to sleep.
When we reached land, the ferry plowing through a well defined channel, I could see shallow banks to the right, where in some places the water was no more than half a metre deep. The terminal itself appears after passing a few mountains, where a guy in a small dingy fishes out the ferry's ropes in order to secure it to the land. Once secured, an announcement came that we could now go to our vehicles. However, this doesn't mean (in my opinion) that you have to start your engine. Of course, everyone started their cars and trucks at the same time, producing a nauseating blue cloud of smoke. For someone like me, not a very good thing. While packing back my stuff, I kept having to go to a window for fresh air and cursing the rush mentality of these people. Of course it took several minutes to unload the ferry and outside there was a huge lineup, because you have to go through customs again.
In Los Mochis I went to the train station first, but it was closed and opened minutes later, not exactly by the timetable. There I was told to come back the next day to see if they would take my bike across the Copper Canyon. If so, there would still be time to buy the tickets. So, I decided to stay for a night in Los Mochis in the hotel Montecarlo for $22 a night. It's ok, though the rooms are a bit small. It has safe parking in the back. This allowed me to explore the town on foot. It was Sunday and I expected no movement but the downtown area was packed and there was a street market off Boulevard Castro. My travel guide only talked about one spot for checking the internet, but I found two more. One on Independencia, between Leyva and Zaragoza.
I also found a spot that makes veggie sandwiches, using a soy patty in place of a hamburger. It's somewhere on Boulevard Castro, between Flores and Zaragoza. They also sell natural products.
The train for Chihuahua leaves early in the morning at 6am for the first class and 7am for the second class. Thus I had to get up at 4am to arrive at the train station on time, in case they would take the bike. Well, it turns out they only put the bike in a container for the train the following day! The one outside was filled the day before. They also wanted $60 for the bike and that would have been too much. It's probably cheaper to drive around Hermosillo, so I left a bit frustrated and changed my plans (actually going back to my original plan) and went to Mazatlan instead.
Before exiting Los Mochis, I filled up and calculated my fuel mileage and the astonishing figure of 6.6L/100km came up! I had similar fuel mileage in Baja and now suspect that gas in Baja is very low quality. Here in the mainland it seems to be a lot better. After an initial highway, which isn't supposed to have tolls, but there is one at $1.70 for a bike, there are two roads to Mazatlan. The toll road and the free road. Well, it's not entirely free of charge, as there is yet another unexpected toll before Culiacán of the same amount of $1.70.
The road is quite boring. There isn't a lot to see, with the exception of Culiacán. This is big city and I drove right through it, stopping only for gas. At the gas station, I noticed immediately two uniformed guys, one with a machine gun, the other with a rifle. I thought this was very intimidating, and so I asked the guy with the machine gun, Erick Rolando, why so much fire power. He said it's because there is a lot of crime. He seemed a bit perplexed by my question, almost as if carrying a machine here is the most natural thing.
A few kilometres before Mazatlan I came to a sign that said Tropico de Cancer. Not exactly an inviting place for a photo op, with garbage all around. This was the third time I crossed the tropic of Cancer. I had crossed it twice going from La Paz to Cabo San Lucas and back. In Mazatlan I went straight to the centre of town and stayed in the hotel Lerma, on Bolivar, between Serdan and Juarez. They charge $9 a night and the rooms are clean and spacious, though it is oppressively hot and humid. In two days I will cross the Sierra Madre and arrive in Durango.